What payment methods do you accept ?
We accept Visa, Mastercard, American Express, Apple Pay, Google Pay, ShopPay and Paypal. We also offer Zip (NZ) and Afterpay (NZ/AU), which allows you to purchase in four instalments (if eligible).
Can I change my browsing currency ?
All of our transactions take place in New Zealand dollars. However we do provide a currency conversion tool as a way to help our customers make sense of our prices. Keep in mind that this is an approximation (based on live exchange rates at the time) and all orders will be processed in New Zealand dollars as we are a New Zealand based company.
Am I eligible for tax free ?
We have a duty free store at Auckland International Airport. If you are traveling out of the airport and would like to speak to us about any products in particular then please get in touch.
Where are your products made?
Here in New Zealand we employ many artists in our own carving studio in Rotorua, as well as working with a vast number of independent artists who carve from their home studios throughout the country. This gives us the largest collection of greenstone products. New Zealand jade is not permitted to leave the country to be carved, so if you are buying a piece of pounamu (greenstone), then it has been sourced and made in New Zealand. We label our pieces with their stone origin (country) for absolute clarity. We also work with carvers all over the world and some of our Canadian and Chinese jade is carved overseas.
What are your products made of?
Jade is a term used to describe nephrite jade and jadeite. At Mountain Jade, everything we carve is nephrite jade. Nephrite jade found here in New Zealand is commonly referred to as New Zealand jade, greenstone, or pounamu. Nephrite jade can also be found in many countries around the world. We label our pieces with their stone origin (country) for absolute clarity. You can learn more about the jade we carve here.
Do you bless your products?
No, we don't bless our jade and this is for two reasons. Firstly this is an entirely individual choice that we do not want to make on our customer's behalf, and secondly we are not qualified to bless jade. We recommend you get in touch with your local Marae and ask for advice on how to go about getting your jade blessed there.
How are your products packaged?
All of our web orders are packaged in either matte black jewellery boxes with embossed Mountain Jade logos, or an unbranded oatmeal box. They are placed inside a recyclable cardboard low-ink (or zero ink) box and lined with recycled paper. This is then placed in compostable mailer bag. Where available, we include in the order a meaning card and artist profile.
Will my pendant come with a cord or chain?
Yes. All of our necklaces come with the cord or chain pictured in their photographs.
Do you take custom orders?
Yes, our custom made service allows you to work with talented New Zealand artists to bring your story to life in a truly unique and meaningful piece, carved locally by us and made bespoke for you or your loved one. Our artists will work with you every step of the way to design the piece you have always dreamed of - Enquire Here.
Can I view a carving from the website, in one of your stores?
The products on our website live somewhere else (not in store) and logistically it can be difficult to do this. However, we always do our best to be helpful and if you've seen something and are in Rotorua and simply must see it, then get in touch and we will do our best. Please understand this isn't always possible though.
How do you make your products?
Our artists painstakingly carve everything by hand, using diamond-tipped machines and tools that are used to cut through tough jade stones. You can learn more about our carving process here.
Can I return my order for a refund ?
For full details of our returns policy please visit our returns page.
How do I track my order ?
You can track your order by clicking the link found in the shipping confirmation email which you will recieve within two business days of placing your order. If you have chosen our non-tracked shipping option we will have to track your order for you, so give us a call on +64 7 349 3968.
I've not received my order. What do I do?
If you are in New Zealand, please allow 5 working days before you get in touch. If it has already been 5 days, please contact us and we'll look into it for you. If you are outside New Zealand, please allow 10 working days.
Do I need to sign for my order ?
A signature will be required upon receipt of the goods for all orders. We send our jewellery fully insured and this is a requirement of that insurance.
When will my order ship?
Orders are dispatched during the New Zealand business hours of 8am-1pm Monday to Friday (excluding Public Holidays). Delivery for domestic orders may take longer than the quoted overnight service because of the weekend, or if ordered after 1pm. Shipping details must include a street address and daytime telephone number. Your order cannot be dispatched if these details are missing, however we will get in touch if we need more information. Insurance only covers the delivery of the item to this nominated address. Products are received if accepted by a person at your nominated delivery address.
Will I be charged customs or duty fees?
Your order may be subject to import duties and taxes once it reaches the country it is being shipped to. Any fees will vary depending on the destination country and order value. If unsure, we recommend you contact the relevant overseas customs office to aid in making an informed purchase decision. Mountain Jade are not responsible for these fees. Be mindful, also, that it will be the recipient of the goods who will be asked to pay any fees upon delivery, so consider this when ordering gifts. Orders which are not claimed at customs will be returned to us at the customer's expense; with any refund deducting the cost of return postage. Return postage comes at a minimum of $50 on the DHL Express service. A refund will not be issued until the items have arrived back with us, in the same condition.
What happens if I refuse delivery or do not collect from customs?
Orders which are not claimed at customs - or refused at the address by yourself or the recipient of the goods - will be returned to us at the customer's expense; with any refund deducting the cost of return postage. Return postage comes at a minimum of $50 on the DHL Express service. A refund will not be issued until the items have arrived back with us, in the same condition.
What are your shipping speeds and costs?
We have a whole page dedicate to this, which you can visit here.
Which countries do you deliver to?
We ship to virtually every country in the world, with very little exception. We are unable to ship to Russia due to import restricts and a small number of other countries listed on our Shipping page.
Can I cancel my order?
Yes you can, as long as it hasn't already shipped. Get in touch and let us know your order number ASAP, and we will do the rest.
My cord has snapped / frayed / unravelled. Can you fix it?
If you ordered from us online, or have a receipt for your order within the last 6 months, get in touch and we will work with you to get this fixed up. If it has been longer than this and you are in New Zealand, we have a repair service (Read more here). We do not offer this repair service to overseas customers.
My jade necklace has snapped, chipped or cracked. Can you fix it?
If your jade necklace is snapped, chipped or cracked please email customercare@mountainjade.co.nz with a picture of the damaged necklace and our carvers will assess how we can help. Repair prices (if fixable) start from $50.00 NZD. Learn more here.
How do I clean & care for my jade necklace?
With a little bit of maintenance your jade necklace will last for generations and become more beautiful as time passes. Explore our recommendations here and keep in mind that these are recommendations for nephrite jade, not jadeite.
Contact Support

+64 7 349 3968
1288 FENTON STREET, ROTORUA
NEW ZEALAND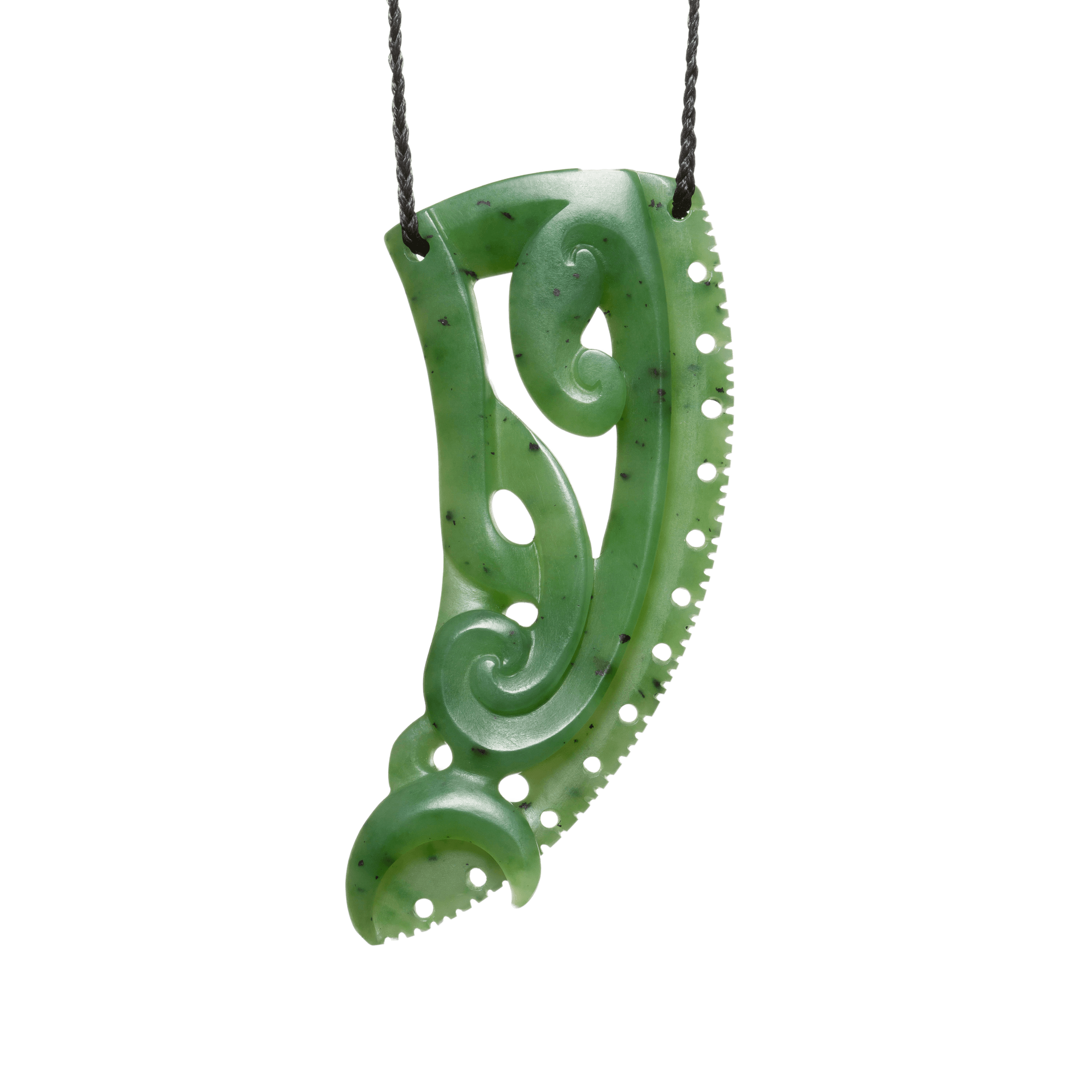 Our Promise
Each of our pieces are hand finished to the highest level.
That means smooth lines, soft finishes, no scratches and no cuts. Our products are individual and unique, with merits and quirks helping to shape their stories. We're over-finishers, everything's made the hard way.
Shop Now